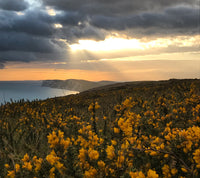 Delicious natural oils, balsamic vinegars and dressings, handmade on the Isle of Wight
At Wild Island we love combining flavours, discovering and blending tastes. In fact this forms the basis for developing each of our products.
We take great care to use the best ingredients, using local ingredients wherever possible, always with provenance, quality and taste in mind.We offer delicious blends which can be used on their own or combined to create tempting dressings, dips, marinades and glazes.
Great Taste Award Winners
We were delighted to win Great Taste Awards for our Cherry Vinegar, Blackberry Balsamic, Raspberry Vinegar and Spiced Fig Balsamic Vinegar Dressing.
buy now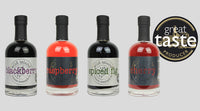 Here are some of the things chefs say about using our products:
"I try to work with 3 flavours in each dish and each flavour compound has back notes. A sauce for example will consist of 5 or 6 elements. I like to use the Wild Island products as they bring a depth of flavour – a few drops to achieve a subtle and interesting taste without over complicating."
'Try Bay & Juniper Balsamic Dressing or the Blackberry Balsamic Dressing (they) naturally work well with game such as Venison to enhance a sauce. The dressings can also lighten and freshen a dish and help connect it all together. Fruit balsamics also work very well with a variety of meats, such as chicken, or veal. I used the Spiced Fig Balsamic Dressing with a Rabbit Terrine – and it was delicious"